French Femme Fatale #1
Bastille Day is coming up this Saturday, the 14th. For the past couple of years, I have been celebrating the French Independence Day holiday at the Rickshaw Stop with a fun party called,
Bardot a Go Go
. My friend Dan, aka, Pop Philosopher has been throwing this party for years with his french music expert friend, Pink Frankenstein and his other buddy, the sunshine pop guru, Cali Kid. It should be extra fun this year, since it lands on a Saturday. Everyone's encouraged to dress in 60's groovy mod attire and the music is similar.
In honor of celebrating French fashion, I decided I am going to feature a hot French dame every day of this week over here. French woman have had their style coveted forever for GOOD reasons. They're famous for their ability to create looks that appear effortless and chic all in one, which is always covetable. I can't think of anyone better to kick off the French femme fatales than one of my very favorite style icons ever,
Anna Karina
, circa her look in the 1960's. She had the best bangs, perfectly-lined eyes, the best mod clothes and fabulous figure. She was super foxy, just look (even in those Harry Potter glasses)!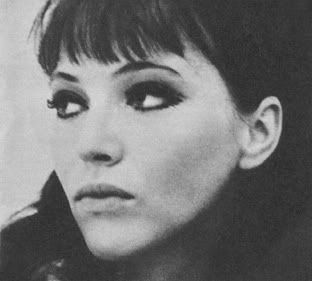 Labels: Fresh Fashion, Fresh French, Fresh Ladies